Ultipa Graph comes with rich collection of toolkits to facilitate data integration, ETL, modeling/schema-design, query/analysis, visualization and more. There are:
Ultipa Manager: Web-based highly visualized & extensible DB/GQL management platform.
Ultipa CLI: Command line interface for graph data management and GQL executions.
Ultipa Cluster CLI: Command line interface for DB cluster management.
Ultipa Transporter: High performance bulk data import/export CLI tool.
Ultipa Connectors: Data migration from Oracle/MySQL/Hive/Teradata/Neo4j.
Ultipa Maker: All-in-one low-code graph schema design and data modeling platform (web-based).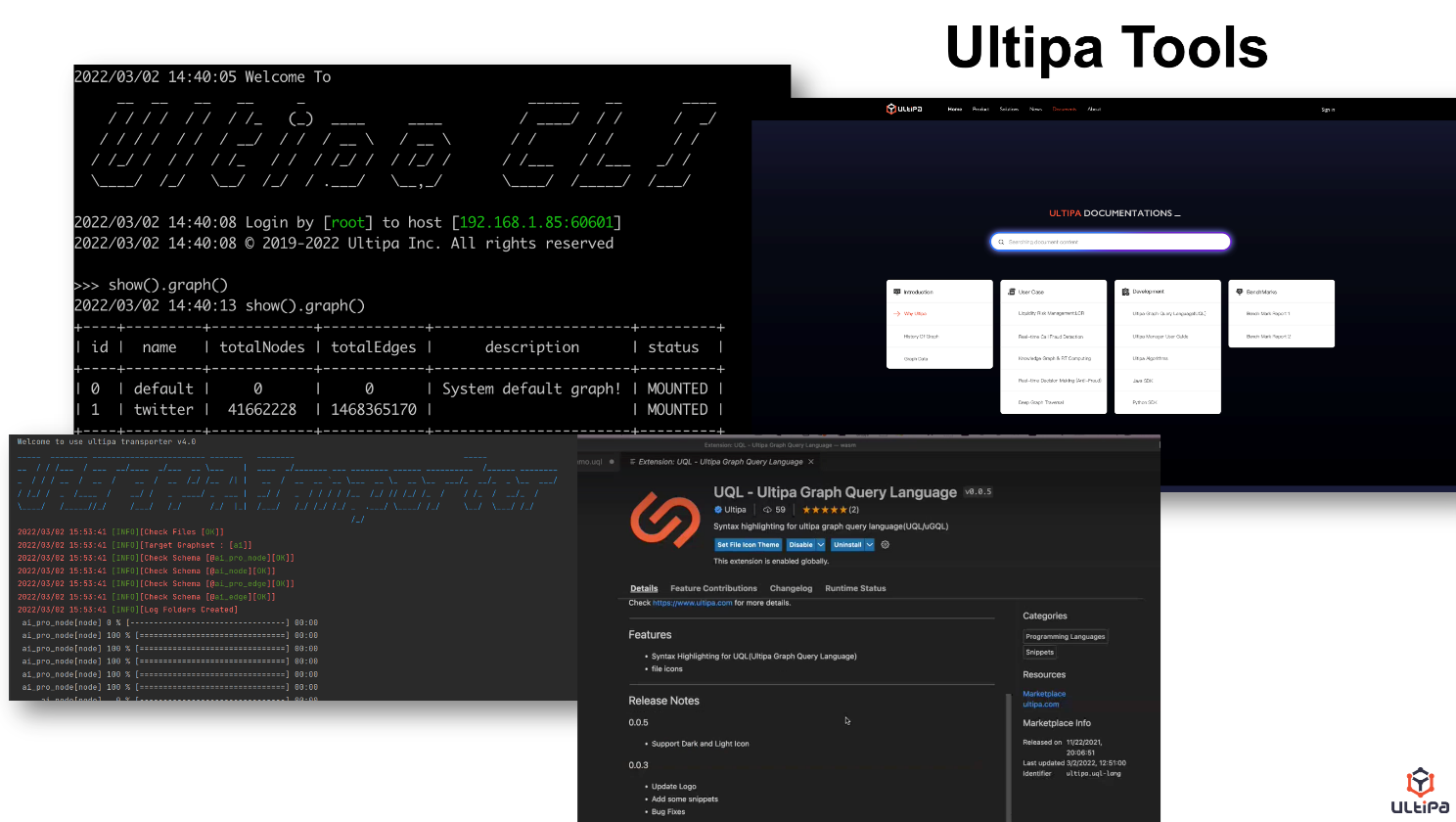 Ultipa Drivers
Ultipa Drivers are a combination of specifications for developers to introduce operations of Ultipa Graph Database when building softwares and applications under different frameworks. Programming languages already supported are listed below:
Java (version 8+)
Python (version 3+)
Golang (version 14+)
NodeJS (version 12+)
C++ (version 14+)
Restful API
Ultipa Query Language
Ultipa Graph Query Language, or UQL for short, is a general purpose yet highly intuitive Graph Query Language. UQL is a unique high performance query and management language designed for Ultipa Graph Database and Graph Computing Engine, developers can quickly grasp it and get started with Ultipa Graph system. UQL supports query, deletion, modification, addition, graph traversal, subgraph matching, graph algorithms, schema management, property management, engine management, index management, GraphSet management, task management, access-control and policy management, and other functions on Ultipa Graph system. Users can invoke UQL via Ultipa CLI (Command Line Tool), Ultipa Manager (a graphical interface) or SDK (Ultipa Software Development Kits).
UQL keeps pace with GQL international standards in terms of the overall functionality and compatibility. GQL standard is expected to be launched in 2023/2024 timeframe. Ultipa team has joined the standardization organization to help build and benchmark the standard Graph Query Language.