✓ File Writeback ✕ Property Writeback ✓ Direct Return ✓ Stream Return ✕ Stats
Overview
Diverging from the classic random walk, the Node2Vec Walk is a biased random walk which can explore neighborhoods in a BFS as well as DFS fashion. Please refer to the Node2Vec algorithm for details.
Considerations
Self-loops are also eligible to be traversed during the random walk.
If the walk starts from an isolated node without any self-loop, the walk halts after the first step as there are no adjacent edges to proceed to.
The Node2Vec Walk algorithm ignores the direction of edges but calculates them as undirected edges.
Syntax
Command:algo(random_walk_node2vec)
Parameters:
| Name | Type | Spec | Default | Optional | Description |
| --- | --- | --- | --- | --- | --- |
| ids / uuids | []_id / []_uuid | / | / | Yes | ID/UUID of nodes to start random walks; start from all nodes if not set |
| walk_length | int | ≧1 | 1 | Yes | Depth of each walk, i.e., the number of nodes to visit |
| walk_num | int | ≧1 | 1 | Yes | Number of walks to perform for each specified node |
| edge_schema_property | []@<schema>?.<property> | Numeric type, must LTE | / | Yes | Edge property(-ies) to use as edge weight(s), where the values of multiple properties are summed up; nodes only walk along edges with the specified property(-ies) |
| p | float | >0 | 1 | Yes | The return parameter; a larger value reduces the probability of returning |
| q | float | >0 | 1 | Yes | The in-out parameter; it tends to walk at the same level when the value is greater than 1, otherwise it tends to walk far away |
| buffer_size | int | / | 1000 | Yes | Number of results to return; a value < 0 means to return all results, otherwise to return partial results |
Example
The example graph is as follows, numbers on edges are the values of edge property score: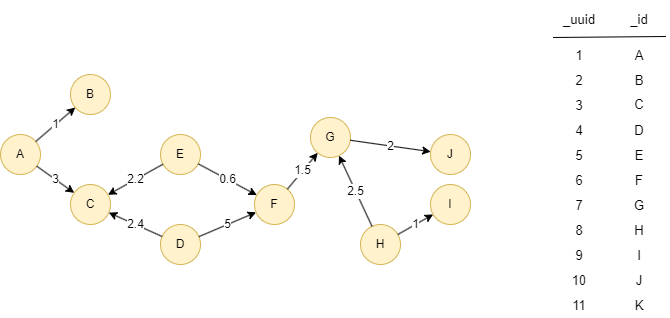 File Writeback
| Spec | Content | Description |
| --- | --- | --- |
| filename | _id,_id,... | IDs of visited nodes |
algo(random_walk_node2vec).params({
  walk_length: 6,
  walk_num: 2,
  p: 10000, 
  q: 0.0001
}).write({
  file:{
    filename: 'walks'
}})

Results: File walks
J,G,H,I,H,G,
I,H,G,F,E,C,
H,G,H,G,F,E,
G,H,G,H,I,H,
F,G,E,C,D,F,
E,F,E,F,G,H,
D,C,D,C,E,F,
C,D,A,B,A,C,
B,A,C,D,F,E,
A,B,A,B,A,C,
J,G,F,D,C,A,
I,H,G,F,E,C,
H,I,H,I,H,G,
G,F,D,C,E,F,
F,E,C,A,B,A,
E,F,E,F,D,C,
D,F,D,F,E,C,
C,D,A,B,A,C,
B,A,C,E,F,G,
A,C,A,C,E,F,

Direct Return
| Alias Ordinal | Type | Description | Columns |
| --- | --- | --- | --- |
| 0 | []perWalk | Array of UUIDs of visited nodes | [_uuid, _uuid, ...] |
algo(random_walk_node2vec).params({
  ids: ['J'],
  walk_length: 6,
  walk_num: 3,
  p: 2000,
  q: 0.001
}) as walks
return walks

Results: walks
[10, 7, 6, 5, 3, 1]
[10, 7, 6, 5, 3, 1]
[10, 7, 8, 9, 8, 7]
Stream Return
| Alias Ordinal | Type | Description | Columns |
| --- | --- | --- | --- |
| 0 | []perWalk | Array of UUIDs of visited nodes | [_uuid, _uuid, ...] |
algo(random_walk_node2vec).params({
  ids: ['A'],
  walk_length: 5,
  walk_num: 10,
  p: 1000,
  q: 1,
  edge_schema_property: 'score'
}).stream() as walks
return walks

Results: walks
[1, 3, 4, 6, 5]
[1, 2, 1, 3, 5]
[1, 2, 1, 3, 4]
[1, 3, 4, 6, 7]
[1, 3, 4, 6, 7]
[1, 3, 5, 6, 7]
[1, 3, 5, 6, 4]
[1, 2, 1, 3, 5]
[1, 3, 4, 6, 7]
[1, 3, 4, 6, 5]