Ultipa CEO, Ricky Sun, a renowned expert in high-performance computing and storage, was recently invited to participate in the ACM SIGMOD/Big Data in Emergent Distributed Environments 2023 conference held in Seattle from June 18th to 23rd. During the conference, he presented a groundbreaking paper titled "Designing Highly Scalable Graph Database Systems without Exponential Performance Degradation".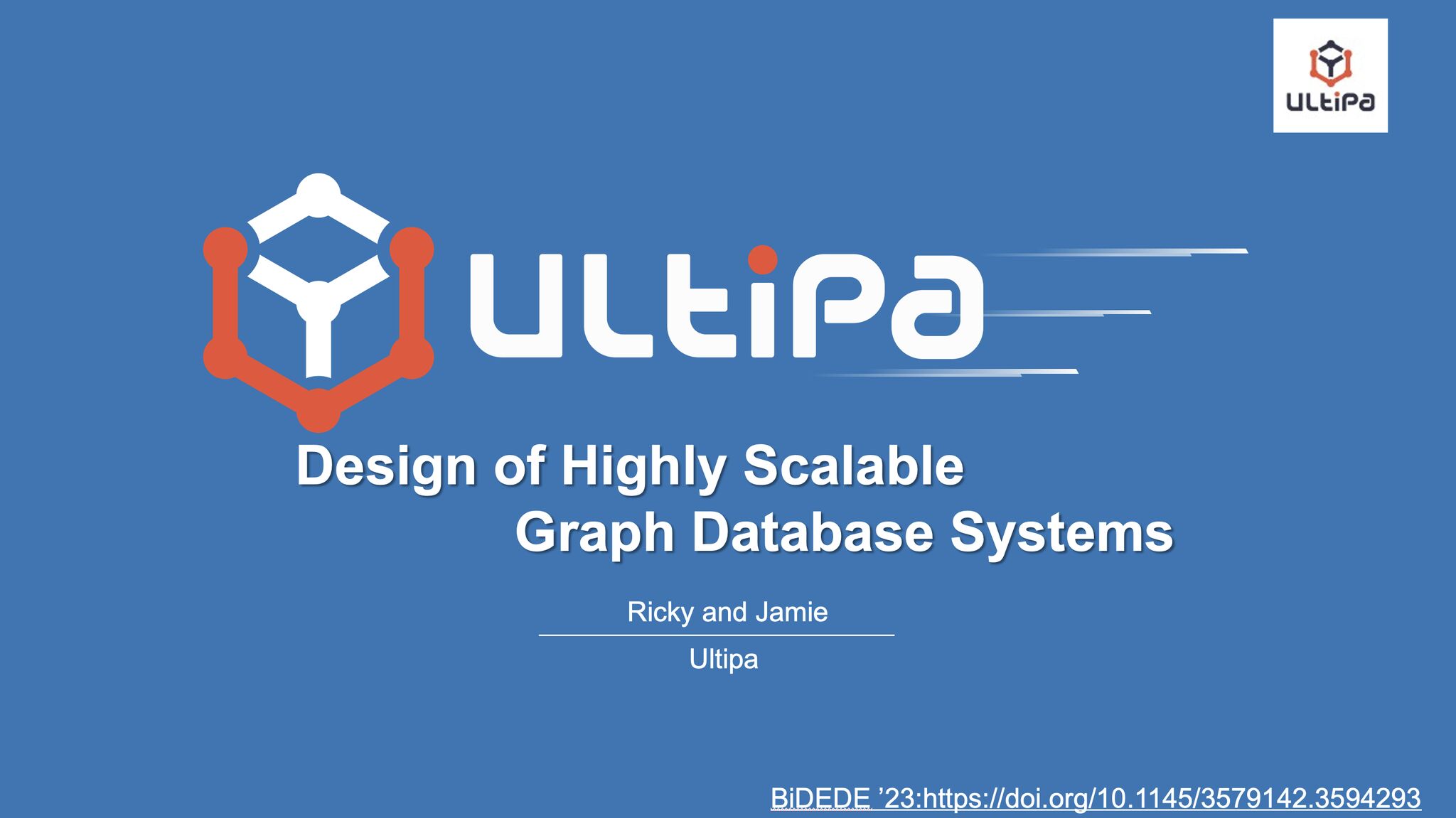 Based on Ultipa's practical experience in building Graph XAI, the paper introduces three architecture designs for graph database systems: the HTAP distributed consensus, Grid, and Auto-sharding, outlining their development paths and applicable scenarios. It highlights a common challenge in most existing distributed graph systems, where the focus is primarily on storage capacity while the importance of computational performance has often to be neglected. This is particularly painful in the BFSI from all other industries, where sea-volume complex data keep flowing into storage systems without going through deep drill-down that can only be achieved by sufficient graph computation capabilities, letting alone generating real-time insights. The paper shares Ultipa team's practices on coping with these issues with innovative cluster management mechanisms and query optimizations for horizontally scalable systems without sacrificing performance, building an equilibirum between computational performance and scalable storage.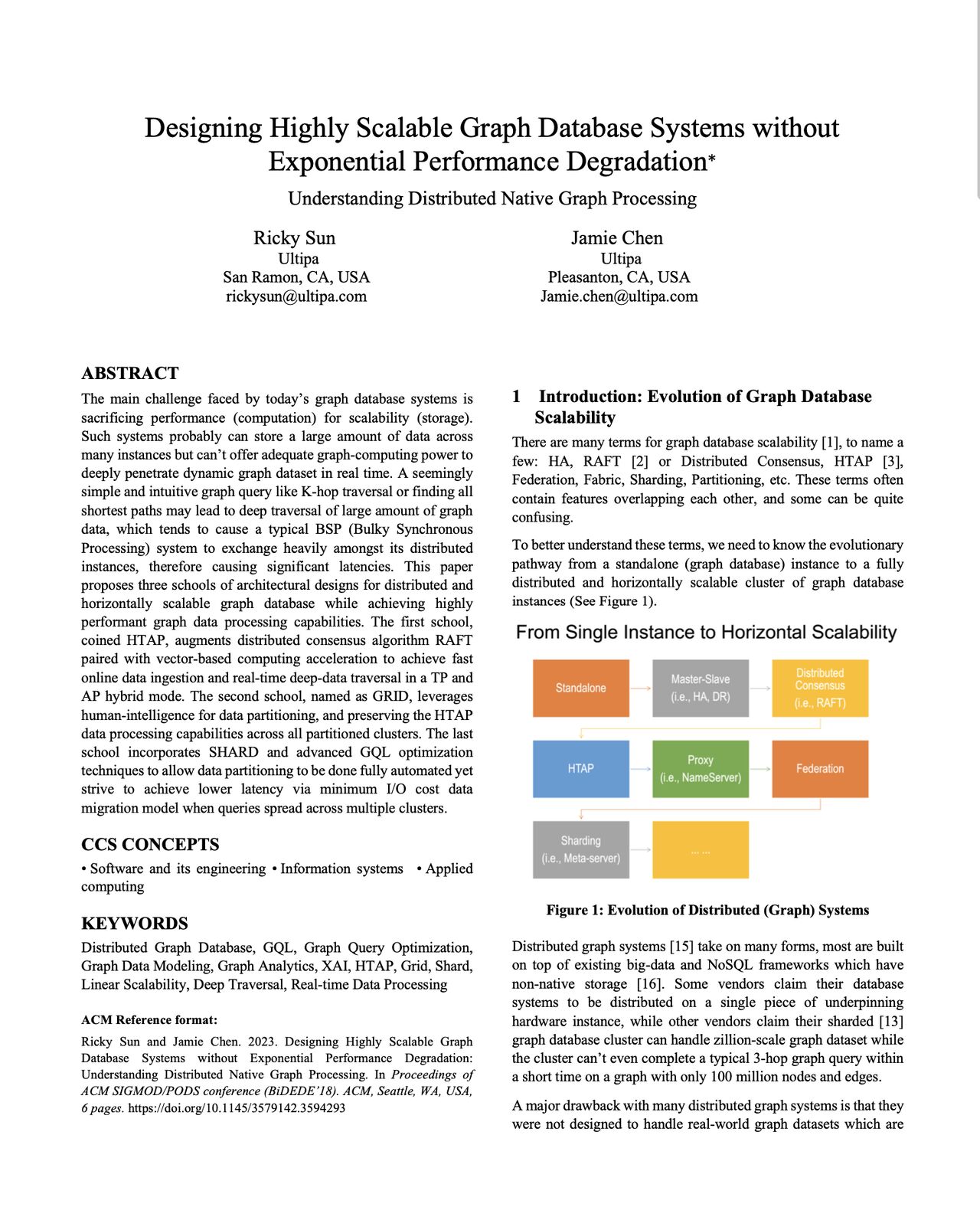 Ricky Sun also points out that deciding on an appropriate architecture requires thoughtful consideration of multiple factors such as cost, business logic, design principles, tolerability for complexity, and serviceability. He argues that if we look from an architectural evolution perspective, the progression from HTAP to Grid and then to Shard demonstrates a coherence and interconnectiveness. It is particularly important to see that the sharding architecture exhibits the diversity and complexity involved in designing sophisticated and high-performance GDBMS.
ACM SIGMOD is one of the most influential international academic conferences in the fields of information technology, organized by prestigious Association for Computing Machinery (ACM) and the Special Interest Group on Management of Data (SIGMOD). Ultipa's participation in this conference reflects the high recognition of its advanced graph technology and industry impact within the academic community.
About Ultipa:
Ultipa is a Silicon Valley based next-generation graph XAI and database company with operations in EMEA and APAC. The team at Ultipa believes that graph augmented intelligence and XAI empower enterprises with their digital transformation process, the process requires the convergence of data intelligence and infrastructure revolution -- in another word Ultipa graph database augments and accelerates AI/ML and smart data analytics, and warrants the benefits of white-box explainability, flexibility and faster time-to-market and value. Ultipa builds the next-generation leading graph XAI and database products and empowers killer applications to be built with celerity and ease in vertical domains like Real-time Fraud Detection, Asset Liability Management (ALM), Liquidity Risk Management (LRM), Low-code Graph-augmented AI+BI Platform, Data Governance (RDA), and etc. Ultipa is backed by world's prestigious sovereign wealth fund and venture capital firms.