Ultipa Graph, a next-generation real-time computing technology provider, has recently been selected as one of the 10 HKSTP EPiC 2023 Grand Finalists. This prestigious event attracted participants from over 55 countries and more than 610 innovative technology companies.
As one of the largest international competitions, the EPiC judging panel focused on uniqueness, market size, and business strategies during the 60-second live demonstration at the International Commerce Centre in Hong Kong. They also held a Q&A session with each competition candidate regarding innovation capabilities, competitive advantages, growth potential of products and services, achievement of business objectives, etc., where the judging panel was greatly impressed by Ultipa's demonstration and Monica's detailed answers.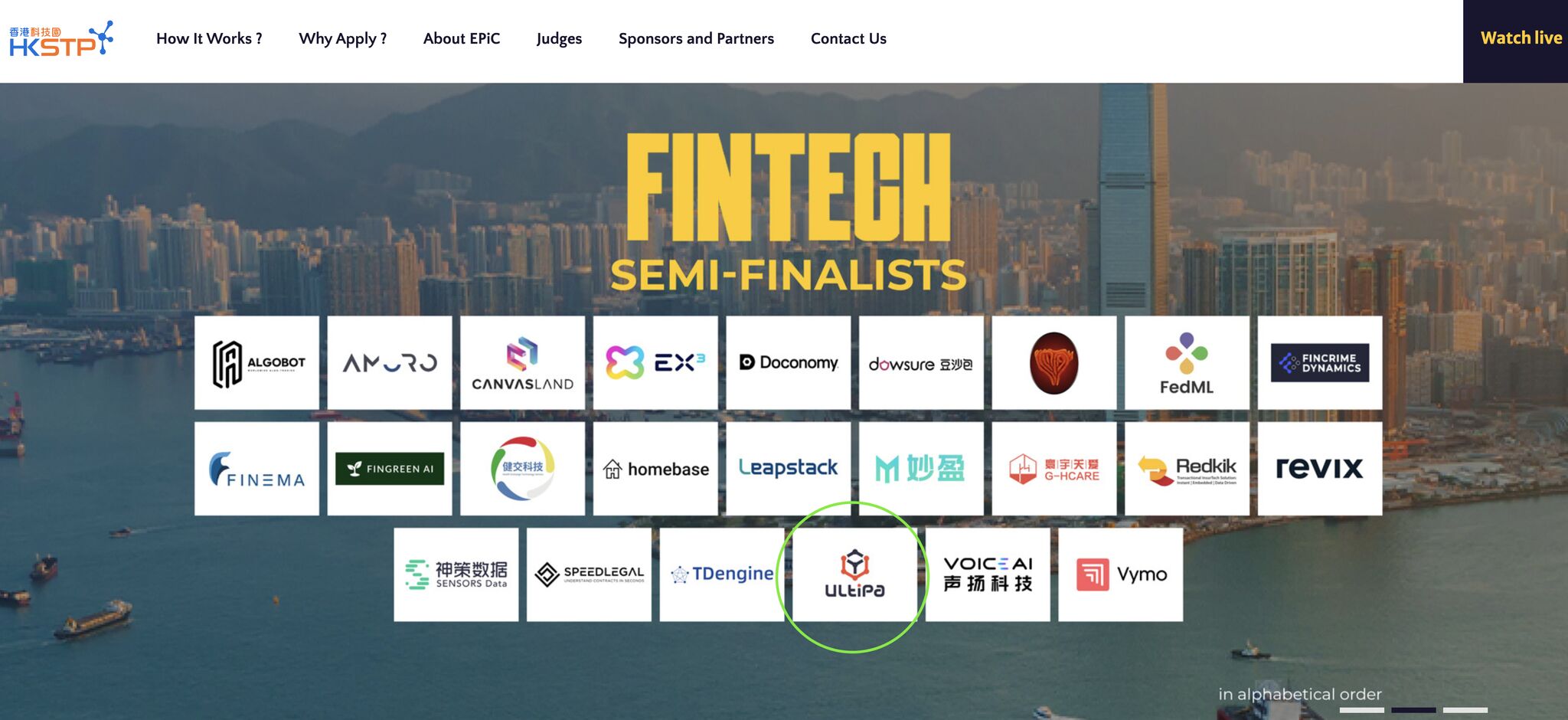 Monica introduced to the panel about Ultipa XAI, Ultipa's cutting-edge graph technology that incorporates AI acceleration, augmentation, and explainability, which is powered by the world's next-gen horizontally scalable graph computing and storage engine. It has already been providing industry-leading computing experience for the world's top banks and financial institutions, with significant improvement on AI prediction accuracy, and interpretability for AI/ML and LLM (Large Language Model). She explained: "Ultipa Graph outperforms other competitor products from Silicon Valley in terms of computational efficiency by 10X-1000X and more. When calibrating risk indicators in BFSI scenarios, it is faster than Oracle by 5,000+ times. Moreover, by building the smart asset-liability management system, Ultipa applies XAI technology to eliminate the black-box nature of existing Oracle's cash flow engines and rule engines, which can be said as a groundbreaking achievement in the BFSI industry".
Ultipa's selection as one of the 10 HKSTP EPiC 2023 Grand Finalists is a testament to the superiority of Ultipa Graph, the success at EPiC showcases Ultipa's unwavering commitment to innovation and positions them as a leader in the field of real-time computing technology.
About Ultipa:
Ultipa is a Silicon Valley based next-generation graph XAI and database company with operations in EMEA and APAC. The team at Ultipa believes that graph augmented intelligence and XAI empower enterprises with their digital transformation process, the process requires the convergence of data intelligence and infrastructure revolution -- in another word Ultipa graph database augments and accelerates AI/ML and smart data analytics, and warrants the benefits of white-box explainability, flexibility and faster time-to-market and value. Ultipa builds the next-generation leading graph XAI and database products and empowers killer applications to be built with celerity and ease in vertical domains like Real-time Fraud Detection, Asset Liability Management (ALM), Liquidity Risk Management (LRM), Low-code Graph-augmented AI+BI Platform, Data Governance (RDA), and etc. Ultipa is backed by world's prestigious sovereign wealth fund and venture capital firms.