The 8th ZhongGuanCun Fintech Forum Annual Meeting & 2020 Fintech International Innovation Contest Award Ceremony was held in Beijing on Dec 17th, 2020. The forum is jointly hosted by AFCA, NIFA, People's Government of Haidian District, People's Government of Xicheng District, CIF30 and other leading organizations.
Photo: ULTIPA won the runner-up prize in the 2020 ZhongGuanCun International Fintech Innovation Contest
It is reported that the Zhongguancun Fintech Forum has become a weathervane in the domestic fintech sector since its first host in 2013, with its strong influence, foresight and professionalism. As a leading technology company dedicated to the building of the world's fastest graph database system, Ultipa attended the forum together with other top elites in the industry.
Fast | Improve User's Sense of Achievement
As various online consumptions like mobile transfer, QR-code payment, mobile banking, etc. have penetrated citizens' daily life, the concept of money is also transforming from offline paper money to online e-money. Financial institutions like banks, insurance companies and securities are all deepening their digital reformations to satisfy this major overhauling from offline to online. However, the old brick-and-mortar business model can no longer cope with the ever-growing trend of having tens of millions of business transactions on a daily basis, leaving almost all financial institutions eager to upgrade their core technological capabilities.
In this regard, as a fintech enabler, UITIPA Graph with its three-pillar products, which are Ultipa Server, Ultipa KG and Ultipa SaaS, serves the business purpose of graph-powered and augmented real-time intelligence of financial institutions, and enables financial institutions to guarantee their users' sense of achievement.
According to Ricky Sun, Ultipa's CEO, Ultipa has successfully achieved online service efficiency for financial institutions by flitting and trawling through large volume of multiple dimensions of data points and their associated neighborhood data networks, at high speed and in a high-concurrency manner, identifying the potential risks or opportunities in every financial transaction data within 20 milliseconds.
Photo: How fast are 20 milliseconds
Economical | Save up to 70% of TCO
Since the beginning of 2020, the proportion of online businesses in the financial industry has increased sharply due to the impact of COVID-19. In the face of massive and complex data, it is imperative for financial institutions to ante up their technological arsenal to mitigate various online risks while satisfying the high-intensity (and low latency) online processing demand at the same time.
"Ultipa's graph system can help enterprises save TCO (total cost of user ownership) by more than 70% and shorten the implementation cycle by 80%," Sun stressed.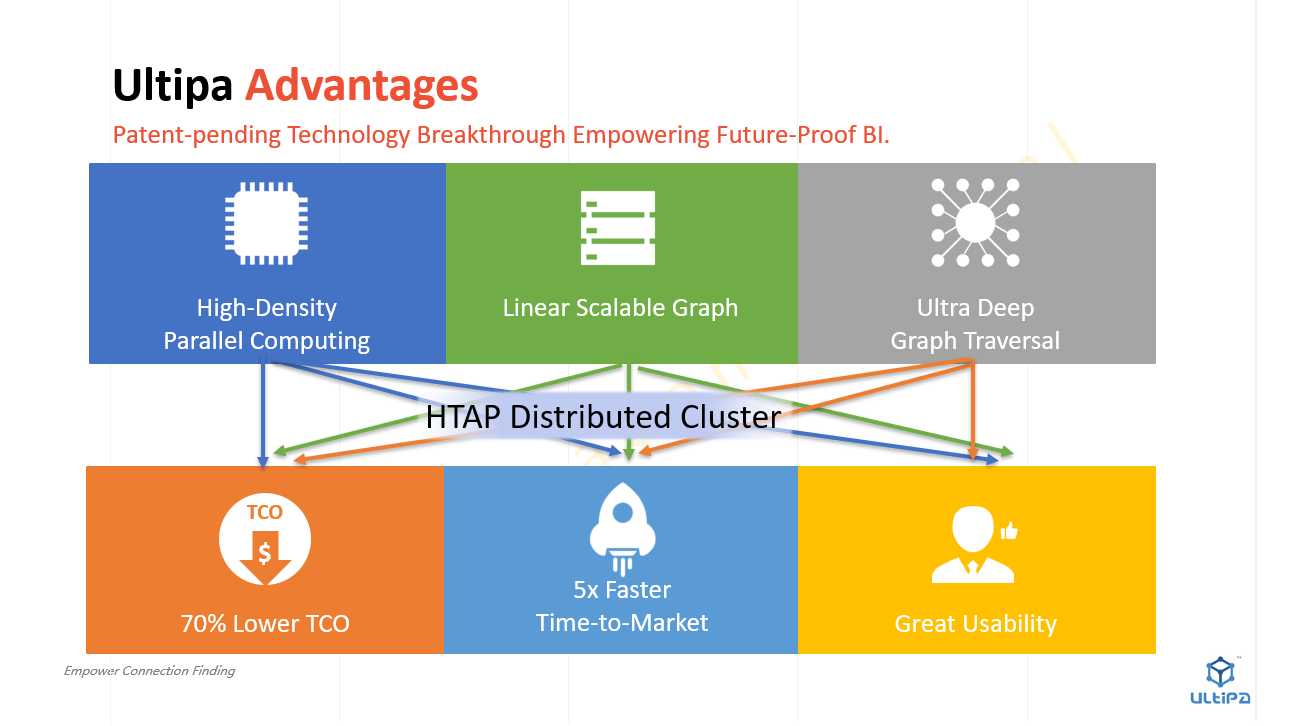 Photo: Ultipa's graph database products help enterprises save over 70% of their TCO (total cost of ownership) and shorten their implementation cycle by 80%
Intuitive | Elevated Visual Experience
Compared to traditional databases, Ultipa Graph database embodies not only high-speed and high-dimensional capability, but also convenience (ease-of-deployment-or-upgrade) and intuition (ease-of-use).
UQL (Ultipa query language) invented by Ultipa only takes 20 minutes for an average engineer to start using Ultipa graph system. Ultipa KG is designed to be highly visualized and highly intuitive - in other words, dummy-proof. This highly visualized product can help finance business staff to intuitively sort out a financial network behind the massive customer data with simple operations, such as the complex relationship formed by capital connections between multiple enterprises, enterprises and individuals, and individuals.
Massive data is usually accompanied by complex relationships. For example, in the associated credit network, enterprises, banks, trusts, insurance companies, guarantee companies and other economic entities form a complex relationship through holding, guarantee or mutual insurance, transaction, supply chain and the multiple identities of management, and the associated credit risk also presents a domino effect.
Figure: Quantification of risk transmission factors
By expressing a high-dimensional and complex architecture formed with customer data, Ultipa KG captures the relevance between heterogeneous types of customer information network-wide, dynamically and intelligently, for the capture and/or prediction of potential risks or opportunities.
As we all know, the research and development of database products is a long-term work with high investment, high-tech and high threshold. On the journey of independent scientific research, Ultipa devotes its effort to "building the most intuitive and easy-to-use graph database with world's best performance and empowering smart enterprise with graph augmented intelligence", which is also the mission entrusted to Ultipa by its founder, Ricky Sun.