Ultipa CEO, big data expert Ricky Sun was invited to Huatai Fintech Investment Summit 2020 and delivered a speech on The Construction of Smart Fintech - Graph Computing Empowers Real-time Enterprise Intelligence, sharing his insight on how the financial industry can build a data-based, user-experience-focused and graph-driven architecture, to integrate frontier technology with traditional financial business.
Graph database lets securities companies focus on accelerating their jobs
Providing rich securities products, lightning-fast trading services, convenient access to the market, prophetic market judgment... the securities industry has a 'client-centric' DNA. The fact is that in the digital environment of today, the massive, multi-source, multi-modal, and complex data has made its processing harder than ever. Infrastructure, especially database service providers are facing the challenges of how to ensure timeliness, and accuracy during real-time decision making.
"The securities industry has a keen demand for a deep correlation of data. The demand is to not only ensure regulation/policy compliance but also reduce their operating costs, and comprehensively improve user experience" said the CEO. The attendees felt the same way toward the idea of 'speed represents service', and said that fintech could empower financial services companies to return to their roots - to better serve their customers.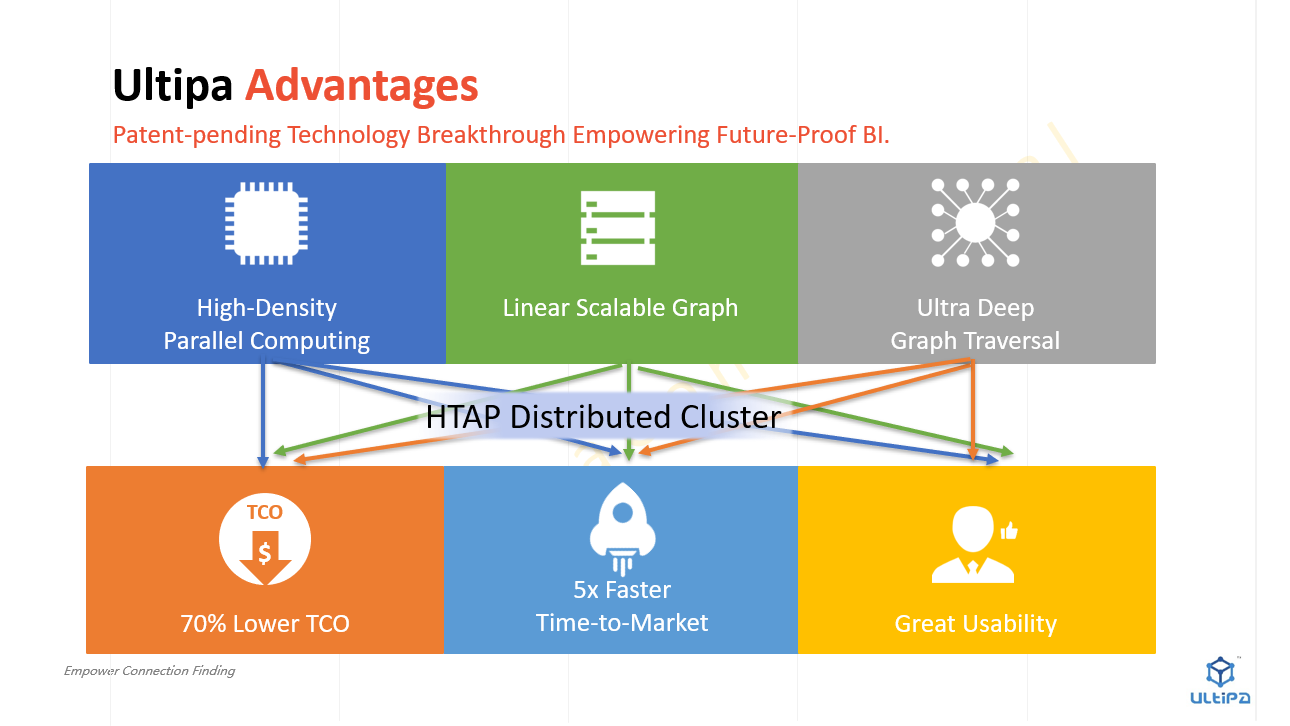 Photo: Ultipa's graph middleware products help enterprises save over 70% of their TCO (total cost of ownership) and shorten their implementation cycle by 80%
Intellectualization is the next major milestone after enterprise informatization
"Upon the general completion of enterprise IT informatization, a comprehensive intellectualization forward is the inevitable trend," Ricky Sun further explained the main task of this 'inevitable trend' as "to handle high-dimensional data correlation using graph databases or graph computing and storage engines".
Ricky Sun introduced that the evolvement of data technology (DT) regarding data processing is meant to go through four stages which are Data, Big Data, Fast Data, and Deep Data in the past 40 years and moving forward down the road:
· The period from 1980 to 2010 was dominated by relational databases;
· 2010 ~ 2020 was a decade of big data and cloud computing dominated by Big Data and Fast Data;
· The next 10 years (and potentially much longer) can be foreseen as the era of graph computing and graph databases.
Figure: Development trend of DT: Data --> Big Data --> Fast Data --> Deep data (Graph Data)
"The real world is high-dimensional, whereas traditional relational databases, SQL, are two-dimensional. It is not a valid way for enterprises to realize intelligence by expressing a high-dimensional world with a low-dimensional data structure. Only the high-dimensional data structure of graph databases can restore and resemble the world in a 100% natural way and deal with unknown data relationships.
When it comes to the securities industry, same as the other traditional financial fields born with big data genes, "the evergrowing demand of new business scenarios and markets for data association analysis and deep correlation value extraction must be satisfied by technologies, products, and solutions based on graph computing, graph analysis, and graph storage". As a veteran in cloud computing and big data field, Ricky Sun has full confidence in his cutting-edge product offerings, Ultipa, which prevails over domestic and overseas competitors in all dimensions: batch import & export, dynamic update, meta-data query, template-based path & K-Hop query, query filters, graph algorithm and so on. Ultipa has been a top performer in financial scenarios with its functionality, stability, ease of use, integrability, and other comprehensive features.
Figure: Ultipa with features of 'computing power + algorithm + visualization + interpretable AI' from the underlying architecture
Being a relatively new concept compared with cloud computing, AI, and blockchain that are more familiar to the public, graph database is a hardcore underpinning technology, which can drive the application layer development such as AI and cloud computing. CAS Academician Zhang, known as the father of China's artificial intelligence, praised Ultipa's breakthroughs in core technologies. He said it was important and urgent for China's academia and industry to attach importance to basic scientific research; after all, repetitive Internet 2C application development has enjoyed a full decade of growth, but 2B business demands hardcore underpinning technology breakthroughs.